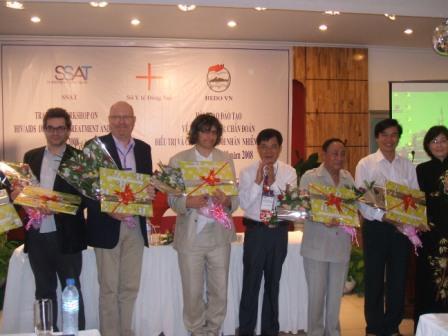 December news
News on HIV/AIDS prevention in Vietnam.
The Highland Education Development Organisation ( HEDO) has tightly cooperated with Stephen's Aids Trust (SSAT), the Chelsea and Westminster hospital on training doctors on HIV/AIDS field in the fast years. The projects has left a remarkable results. For the 2010 program, after doing a survey on the need of training doctors on HIV/AIDS in Soc Trang and An Giang provinces HEDO and SSAT has decided to implement basic and scale up "Training Workshops on prevention, diagnosis, treatment and care for HIV/AIDS people" in February and March 2010. These training workshops of HEDO for the selected doctors in these 2 provinces Soc Trang and An Giang ( There are 50 doctors selected from each province who work closely with HIV/AIDS patients) The workshops this time will have the honor to welcome the famous lecturers in Vietnam and from the United Kingdom come to teach directly. The workshops were warmly welcome by all the doctors and provincial leaders. This is the very charitable projects of HEDO in collaboration with SSAT and Departments of Health of the 2 provinces Soc Trang and An Giang. The donor has already transferred the funding to HEDO and HEDO director will fly to these 2 provinces to discuss with leaders of the Departments of Health to prepare for the workshop in February and March 2010.
During the time of the workshop in March, HEDO also has the honor to invite Dr. Nelson and Dr. Bower and other high ranking leaders of SSAT to attend HEDO 20th foundation and operation anniversary and receive the medal granted by the government of Vietnam for their support on health care in Vietnam. At the same time HEDO and SSAT will renew the HIV/AIDs training agreement for the 5 years on training doctor on HIV/AIDS between HEDO and SSAT.
To welcome new year 2010, HEDO has sent the new year cards to the National and International Organisations, universities overseas, Friendship Associations, Embassies in Hanoi that have relation with HEDO. At the same time HEDO has received hundred of new year cards from National and International Organisations.
Currently, the director of HEDO Prof. Trinh Ngoc Trinh has been granted the second class Certificate of Merit from the government of Vietnam and the Certificate of Merit from Minister of Education and Training, the Central Committee for Education and Sciences, from the Chairman of Vietnam Union of the Friendship Organisation for the great contribution to the development of education for the highland areas and foreign relation during the last 20 years. At the same time, the Ministry of Education and Training has granted the Certificate of Merits for the great contribution of the 2 English Professor and doctor Dr. Mark Nelson and Prof. Mark Bower. The medals and Certificate of Merit have been taken to HEDO's office and will be given on the occasion of the 20th Anniversary of Foundation and Operation of HEDO (28/03/1990-28/03/2010)
Improving knowledge for staff

Besides paying attention to staff's material life and spiritual life, Director Board of HEDO also focuses on training and improving staff's knowledge. In November and December 2009, Director Board of HEDO nominated HEDO's staff to take part in 2 courses: "English for Contract Drafting" and "Project proposal writing in ASEAN" in Vietnam – Singapore training center. The courses aims to supply necessary knowledge for learners to write project proposals so that they can write many projects to help people in the ethnic minority provinces.
On 14th December 2009, HEDO in collaboration with Thai Binh Medical University organized parent's meeting.
The purpose of the meeting is to announce the study results of 60 students who were funded by HEDO. For the first term (2008-2009), the students who were accepted to move up for the first year students of Thai Binh Medical University. Professor Trinh Ngoc Trinh, Director of HEDO, Principal, lecturers of Thai Binh Medical University and all students' parents and students of the first course attended the meeting.
HEDO encouraged students' parents to take care of their children. HEDO also let them know about the material and spiritual encouragement to ethnic minority students such as:

Continue to encourage, improve material and spirit for students to start the regular General Doctor course. Continue to give them scholarships of 180.000VND per month, buy health insurance, organize to have extra lessons, give priority policies for leaders of the groups in the class; Youth Union, Student Union, newspaper, music shows, sports, remain to award them and in time…
Continue to meet the 2 General Doctors courses for term I and term II (2009-2010): Organize to exchange the 2 courses, launching solidarity and fulfill the responsibility of course I to course II
About sending students to study in the United Kingdom
Up to now HEDO has granted 9 scholarships for 9 Vietnamese students who have registered with HEDO for Foundation, Undergraduate and Master programmes
One student who came to Kaplan International College in London will be given scholarship for undergraduate programme.
HEDO has completed documents and has received acceptance letters from Hult International Business School for one Undergraduate student and one Master degree student. These 2 students are now applying for the UK visa.
There are now remained 2 Foundation students, 1 Master student and 3 Undergraduate students who are now completing their documents and will submit in early August 2009.
HEDO has also sent official letters to provincial Department of Education and Training giving students scholarship for their study in the UK for the following programmes: Foundation, Undergraduate and Master programmes and also sent them the necessary guidelines so that they can prepare for their study in the United Kingdom.
About projects:
Finish organizing the first Regular General Doctor Course according to priority recruitment without funded by state of HEDO.
Has tightly coordinated with the Board of Teacher and Training Board of Thai Binh Medical University, guiding and recruiting 60 Regular General Doctors according to rules and regulation of Ministry of Education and Training.
There are 4 staff of HEDO serving for the class leading by 1 Deputy director of HEDO, actively organize the class to operate stable. The class was divided into 4 groups: one group leader, one deputy group leader, one class leader, one deputy class leader in charge of study and one deputy class leader in charge of student life. Most of student are given rooms in the university resident, few numbers renting room outside university resident but cadres of class always keep an eye on them.
HEDO has carried out the policies to encourage students by giving them scholarship, awarding good students and good in each subject. Head of the class, deputy head of the class, leader and deputy leader of the class are given from VND 50.000 ( Deputy group leader) to VND 100.000 ( Class Head). HEDO has also provided them 3 daily newspapers for each group ( Tien Phong Newspaper, Phu Nu newspaper, Suc khoe va Doi Song newspaper) each group was provided 2 sets of badminton, volleyball, football, setting 1D HEDO football club providing clothes, shoes, balls and nets.
Currently, students are launching the competition to commemorate the birthday anniversary of uncle Ho and looking forward to moving up class 100% at the school year 2008-2009.
Director Board of HEDO has tightly coordinated with the University Board of Teachers and Training Department of Thai Binh Medical University to care for the training course. HEDO meets with the Director Board and the Training Department monthly to listen to ideas of university leaders about HEDO doctor training course in order to regulate students at the same time reflect to university the aspiration and proposal of students.
HEDO has sent student's families the results of the first term. In general, up to now the class of HEDO doctors has been stable. Students are very please and study positively. The staff of HEDO who serve for the class works regularly with students. The Board of Director has the meeting with students monthly to correct the weakness, awarding for their achievements and listen to their aspirations to solve the problems in time.
About International Relation
HEDO has sent Dr. Loan, Head of HIV/AIDS Prevention and Treatment of Dong Nai Department of Health to attend the training course on HIV/AIDS Prevention, Diagnosis, Treatment and Care funded by SSAT in London, United Kingdom.
HEDO has sent 2 students to attend the workshop on Drug Abuse Prevention in Brunei Darussalam.
a, HEDO has worked with Youth Union of Hanoi Teacher Training University to organize competition with the content of Drug Abuse Prevention and English to select 2 excellence Youth leaders who have good command of English and good understanding about drug abuse prevention.
a, In this occasion launching the whole youth to study English.
b, Giving documents and training to youth leaders selected to attend the workshop in Brunei to understand about the history of HEDO to propagandize to the other foreign delegates attending this workshop.
Prepare to welcome 2 delegations of Kaplan International College and Hult International Business School- Organize for Kaplan for the English examination of 2 foundation students on 5th June 2009. Organize for Hult International Business School for the English test of 4 Undergraduate and Graduate students on the 10th of June 2009.
Prepare for one student from Kontum Province who would like to register for MBA with Hult- London in June 2009.
a, Give students the English test. If they are good at English then HEDO will guide them for the visa interview. If they are still weak at English then HEDO will make them study English more and then they can go to study in September.
b, Guide student families for a good financial provenance.
c, Check student's documents and guide students for the interview.
Ask Hult International Business School to keep the agreement of Huron that has signed with HEDO giving HEDO students 50% of the scholarship for BA/BS and 30% for MBA/MA students. And not propagandizing them to change the field the registered. If not we will let students to change to Kaplan International College.
Maintain and deploy deeper the relationship with the current International Organizations at the same time develop the relationships with the new organizations focusing on the grants on Education- Science- Health- Hunger elimination for the ethnic, mountainous areas.
Collaboration between HEDO and MSA.VLC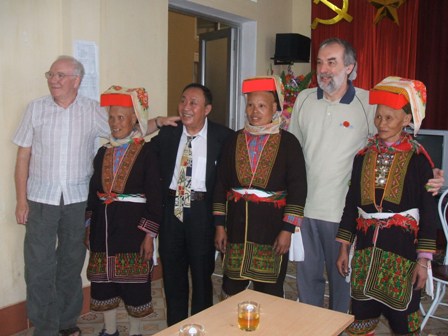 From March 25th to April 9th, HEDO has the honor to welcome the delegation of Medical and Scientific Aids for Vietnam, Lao and Cambodia ( MSA.VLC) of the United Kingdom. Leading the delegation was Mr. Peter Lacy, chairman and other members of the delegation. HEDO organized for the delegation to visit some areas where HEDO implemented or will implement midwives training projects such as Cao Loc district, Chi Lang district belong to Lang Son Province, visiting HEDO general doctors training course at Thai Binh Medical University.
During the time working with HEDO, MSA.VLC proposed some continuous collaborative plan between HEDO and MSA.VLC, especially the delegation has agreed to fund HEDO for 2 projects of training 100 midwives for Tua Chua district, Dien Bien province and training 100 midwives for Chi Lang district, Lang Son province in the coming time. The delegation has also tried to find new sources to help HEDO with the high space car for going to the mountainous, remote and isolated areas in order to help ethnic minority people.
Domestic and overseas training on HIV/AIDs prevention and treatment
In order to serve the HIV/AIDs prevention and treatment works in mountainous, ethnic minority areas. Stephen's Aids Trust (SSAT) has granted HEDO for the short time training on HIV/AIDS in the United Kingdom from March 21st to April 10th 2009. The scholarship worth USD 10.000 given to one doctor who works in hospitals and health clinics of Vietnam. Through many rounds of selection, SSAT and HEDO has nominated doctor Vo Thi Kim Loan who is working at Dong Nai Center for HIV/AIDS Prevention and Treatment to attend this training.
In 2009, Stephen's Aids Trust of the United Kingdom (SSAT) and HEDO agreed to implement 4 training projects for doctors who are working on HIV/AIDS diagnosis, prevention, treatment and care for the 4 southern provinces of Vietnam. The recruitment for training overseas to serve for the training projects on HIV/AIDS prevention and treatment is still continuous. We welcome doctors who have good command of English and good specialization for the training.
Traditional Midwives Training Courses in Lang Son in 2009.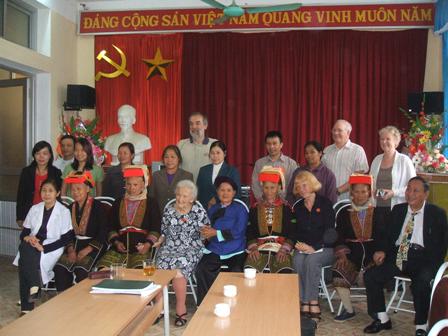 Meeting with traditional midwives in Cao Loc District, Lang Son Province
One of HEDO ongoing projects is the training of traditional midwives. In the upland ethnic minority villages of Vietnam it is frequently not possible for expectant mothers to have their babies delivered at their local health clinic. In many places it is the local custom to have babies delivered at home, assisted by the traditional village 'midwife'. Even when expectant mothers want to have their babies delivered at the clinic it may not be possible because the villages are many kilometres distant and transport is difficult.
In order to combat high rates of infant mortality the Highland Education Development Organisation has organised a series of training courses for these 'traditional midwives'. Much of this training involves developing good practical skills in delivering babies safely at home, but they also encourage mothers to have their babies at their local clinic, where possible. The courses also include sex education, health and hygiene, and drug abuse education. Mainly as a result of the midwives training the infant mortality rate in these districts has been considerably reduced.
In March 2009, MSA.VLC delegation went to Lang Son province and met with traditional midwives who were trained in 2004 to listen to them reporting about the works they have done in five years time and shared with them the experience of supporting pregnant mothers during the delivery. MSA.VLC delegation was very impressed by the work the traditional midwives have done here for mothers and babies, especially, the delegation was surprised to listen to one Dao ethnic minority midwife who has helped 100 mothers giving birth at home safely.
Next, MSA.VLC delegation visited Chi Lang district, Lang Son province, the district is really needed for the midwives training and listened to the Director of Bureau Health to report about the health situation of Chi Lang district and the delegation promised to give financial support to Chi Lang district for the midwives training if the fund is available to MSA.VLC.
Over the past ten years MSAVLC has funded or part-funded a number of these training courses. The most recent:
1. Ham Yen and Yen Son districts, Tuyen Quang province, training course for 200 midwives.
2. Cao Loc and Loc Binh districts (Lang Son Province) training course for 200 traditional midwives in February 2004
3. Sa Pa district (Lao Cai Province) training course for 100 traditional midwives in February 2003.
4. Mai Chau district (Hoa Binh Province) training course for 200 traditional midwives in March 2007. Kim Boi district (Hoa Binh Province) training course for 100 traditional midwives in March 2005.
5. Muong Te district (Lai Chau province) training course for 100 traditional midwives in 2008.
HEDO Executive Committee meeting.
On January 16th, HEDO organized the meeting of Executive Committee to review the works HEDO carried out in 2008 and made the plan for 2009. Members of the Executive Committee were very pleased by the work HEDO did for the last year. Leader of HEDO has lead the organization in the right track, initiative, closely to localities and the enthusiastic and creative cadres of HEDO. HEDO has coordinated with Department of Health of provinces and carried out 5 projects in Dien Bien, Lai Chau, Dong Nai, Vung Tau and in collaboration with Thai Binh Medical University to train 60 doctors for the mountainous, ethnic minority areas. This course started on 30th December 2008. HEDO has sent 4 students for Hult University and 1 student for foundation programme at Kaplan International College in the United Kingdom. The results of the works in 2008 has complemented by leaders of provinces as it bring the benefit for localities and it has encouraged all the staff of HEDO to overcome difficulties to complete the plan 2009 and make achievement to welcome the 20 years of HEDO Foundation Anniversary ( 28-03-1990/ 28-03-2010).
HEDO's UK visit:
1. Director of HEDO Professor Trinh Ngoc Trinh has worked with Mr. Fernando Mora, Global Head of Hult University Undergraduate Recruitment. The two sides have agreed to continue giving scholarships for Vietnamese students. The scholarships ranging from 50% for Undergraduate students and 30% for Master Students. Hult has been merged with Huron requiring 3 years of working experience for students before registering for MBA. HEDO has discussed and agreed with Hult to offer Vietnamese students the 3 month course of International Business and then they can go straight to MBA. Mr. Fernando Mora also took Prof. Trinh Ngoc Trinh for a visit around the University and promised to give generous scholarship for Vietnamese students.

2. Prof. Trinh Ngoc Trinh, Director of HEDO also discussed with Mr. Robert Atkinson- director of recruitment of Kaplan International College. Prof. Trinh emphasized that the cooperation between HEDO and the university has to be arisen from the benefits of students. Mr. Robert Atkinson also agreed to give more scholarships for Vietnamese students and will support HEDO to recruit more students. Kaplan International College has recently offered the wide range of programmes for Vietnamese students such as foundation programme which accepts students from grade 11 for one year foundation before being selected for undergraduate programme in all fields of study.

3. Prof. Trinh Ngoc Trinh worked with Leaders of Chelsea and Westminster Hospital and SSAT. Prof. Gazzard- chairman of SSAT and the director of Chelsea and Westminster Hospital together with Dr. Nelson, vice chairman of SSAT in charge of HIV/AIDs Department of Chelsea and Westminster Hospital, Prof. Mark Bower, Dr. Nick, Ms Linda- programme coordinator and other friends at SSAT and Chelsea Hospital with their kind hospitality. The Chairman of SSAT Prof. Gazzard and Dr. Nelson the vice chairman of SSAT together with the director of Chelsea hospital organized the welcomed party for Prof. Trinh Ngoc Trinh at Blue Elephant restaurant at Fulham Broadway, London. Prof. Gazzard and the director of Chelsea hospital expressed their admiration for the Dien Bien Phu victory of Vietnamese soldiers and they all promised to come to give the lectures on HIV/AIDS for 50 doctors in Dien Bien province and the scale up training workshop on HIV/AIDs in Dong Nai and Vung Tau in 2009.

4. Prof. Trinh Ngoc Trinh also paid a visit to Coventry to attend a meeting with Medical Scientific Aid for Vietnam, Lao and Cambodia (MSA.VLC) and visited the Museum of Coventry to listen to Dr. Madeleine Sharp talking about the struggle of people in Coventry in the Second World War and their support to Vietnam in the war for independence and freedom of Vietnam. MSA.VLC has emphasized the cooperation with HEDO and agreed to further co-operate to train traditional midwives to become nurses and community healthcare workers helping in reducing the death rate of mothers whose traditionally give birth at home and new-born babies. MSA.VLC has asked HEDO for a visit to check the results of the previous midwives training projects in Lang Son province and then with the good results MSA.VLC will give more funding for training projects. The director of Executive Board of MSA/VLC Mr. Peter Lacy, the Hon-secretary Dr. Madeleine Sharp and Mr. Peter Lidgard, Hon secretary came to station to meet Prof. Trinh Ngoc Trinh and delegation of HEDO.
With the above results, HEDO has to mention to the great support of Vietnamese Embassy to the UK, the vice Ambassador Tao Thi Thanh Huong and Mr. Len Aldis, the General Secretary of Britain- Vietnam Friendship Society who met with HEDO to exchange experience before the director of HEDO went to meet the funders.
After the working trip to UK, director of HEDO Prof. Trinh Ngoc Trinh has reported to HEDO Executive Committee. HEDO is very pleased and would live to give sincere thanks to funders, sponsors and friends who have supported HEDO for 2009 projects and programmes. Besides that HEDO was also approved by Ministry of Education and Training to joint with Thai Binh Medical University to train 60 regular doctors for the ethnic minority areas. All projects that was mentioned above creating opportunities for HEDO to serve people, students, ethnic minority children in the poor and difficult areas to benefit from enthusiastic friends overseas and in Vietnam as well.